Green Mountain Woodcarvers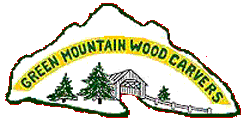 ---
---
In addition to the website and monthly newsletters, you can now find out more about the Club
by logging into Facebook and joining the Green Mountain Woodcarvers group.
---
COVID 19 CANCELLATIONS:
2020 Annual Exhibit & Show / August Bellamy Eagle Carving Seminar
After a lot of discussion, we have decided it is in the best interests and safety of our members to cancel our 3 Day August Bellamy Eagle Carving Seminar, and our Annual Show and Exhibit in Waterbury. We had hoped in March as things began to shut down and we went into "Stay Home. Stay Safe" mode that by August things would settled, we could restart our Monthly CarveIns, our Class and Show could run as planned. When we considered the social distancing issues for a group carving class, masks, guidelines for public gatherings and would the general public be ready to visit our show? With all the unanswered questions we have decided it is best to simply cancel our Carving Seminar and Public Show. As planning was already in progress, and people were interested to again offer the Bellamy Eagle Class for our carving seminar in 2021.

June CarveIn Report

Host: Bob Lindemann

Moretown, VT


With the COVID 19 "Stay at Home, Stay Save" restrictions, we have not been able to schedule our Monthly CarveIn's for the last three months. With the lifting of group sizes in early June, we decided to see how we might go about one again having our monthly CarveIns, and stay within the guidelines. Our August 13, 2020 CarveIn was hosted by Bob Lindemann in Moretown, on a somewhat chilly day (ok, cold) day. We met outside by the gazebo. Everyone brought their own chair, and lunch and of course tools. We had no problem keeping distance between carvers, and participants brought masks, which were used especially when getting closer to talk, see what others were carving or pick up one of the Koffe Cup donuts on the picnic table. We had a good turnout of 10 carvers, many brought examples of the projects they have been working on for the last three months. We had cutouts for the "Plucky Penguin" from WoodCarving Illustrated to work on. An Apology to members not on the email list, we decided on short notice to do the CarveIn as a trial run, and we not able to get the word out to the entire membership.

JULY 11, 2020 CarveIn
Host: Birds of Vermont Museum
Location: Huntington, Vermont

Our July Carve-In will be hosted by the Birds of Vermont Museum in Huntington. We the Museum scheduled for our May CarveIn, but of course all meeting had to be cancelled. The Museum plans to open for the season in early July, following the latest COVID Guidelines. As a result, we will be following the same procedures as our outdoor CarveIn in June. We will be meeting outside using the treehouse, and "easyUps". Bring your own chair, and lunch. We will maintain safe distancing, and wear masks when going into the Museum and getting close to others to see what they are carving, etc. See the Carving Pattern on page 3 for our "4th of July Patriotic Challenge Project". Most of our members know the directions, but just in case, take the Richmond I-89 exit, go into Richmond, go south and follow the signs to the Museum.




---
The Green Mountain Wood Carvers was organized about 60 years ago by Collise Brown from Waterville Vermont to bring together people interested in the art of wood carving. At present, we have about 75 members from Vermont as well as other states across New England.
Members of the club meet the second Saturday of each month for a "Carve-In". The Carve-Ins' are held at members houses and shops across the state, and provide an opportunity for members to gather, work on a projects and share ideas. In addition to our monthly Carve-Ins, each August, the Club plans a week long series of events including a carving class, and our Annual August Show and Sale held in Waterbury Vermont.
You don't need to be an accomplished carver to join the GMWC, our members range from first time carvers to professional carvers. Members work in all aspects of wood carving including relief, chip, caricatures, birds and wild fowl. Are members are always willing to help new carvers get started.
Follow the website links to find information about our various activities, contact information, our membership form and a copy of our newsletter, News & Notes.
Green Mountain Wood Carvers
PO Box 1283
Stowe, Vermont 05672