Green Mountain Woodcarvers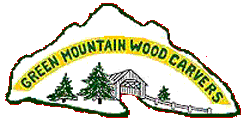 ---
---
In addition to the website and monthly newsletters, you can now find out more about the Club
by logging into Facebook and joining the Green Mountain Woodcarvers group.
---
February CarveIn Report

Host: Barb & Richard Taylor

Putney, VT

Our February CarveIn was hosted by the Taylor's in Putney Barb reports: The weather was horrible on Friday. We were wondering if anyone would venture out for the Saturday, Westminster Carve In. Well, they did and you missed a super time. We had been the receiver of the ice rather than the snow during this storm. So I called our snow guy & he came and touched up the driveways and dropped off some sand. The sun cooperated and it was a beautiful day. We had quite a few carvers, Dave Tuttle from Walpole, Christy Sleezer from Alstead - the NH contingent; Chuck Tattersall from Brookline, Oliver Peck from Springfield, Nancy Dietz from Westminster, Matt Strong, our President and Leo Hein from CT. The shop was humming and the chips were flying. Dave Tuttle had some 3" Gnome cut outs available for anyone needing a small project. Another good carving day. Down in the kitchen, Kaye Peck had made a wonderful pot of Italian Wedding soup to go along with my normal pot of Vegetable. Cathy Hein brought along some ham & salmon salads with soft fluffy rolls. It was a feast as usual along with the chocolate cake that Oliver made brownies & donuts. Lynn sent along her famous apple kuchen. There were one or two pieces left so I did have another bite this morning! All in all it was a very good day, lots of carving and sharing of ideas & projects. We missed many this time due to weather but hope you can all join us next time at Bill Rice's in Randolph.
GMWC Monthly CarveIns Temporarily Suspended

With the recent spread of the COVID-19 virus, and following the Governor's recommendations, after discussion with several Officers and our meeting hosts, we have decided to temporarily suspend our monthly CarveIn Meetings.

STAY HOME ( do some woodcarving) STAY HEALTHY (always wear a carving glove) and make a pile of chips on the floor. Let us know what you have been carving, and we'll keep everyone up to date via the website, emails, and our newsletter. We hope to be able to meet again soon as a group.



---
The Green Mountain Wood Carvers was organized about 60 years ago by Collise Brown from Waterville Vermont to bring together people interested in the art of wood carving. At present, we have about 75 members from Vermont as well as other states across New England.
Members of the club meet the second Saturday of each month for a "Carve-In". The Carve-Ins' are held at members houses and shops across the state, and provide an opportunity for members to gather, work on a projects and share ideas. In addition to our monthly Carve-Ins, each August, the Club plans a week long series of events including a carving class, and our Annual August Show and Sale held in Waterbury Vermont.
You don't need to be an accomplished carver to join the GMWC, our members range from first time carvers to professional carvers. Members work in all aspects of wood carving including relief, chip, caricatures, birds and wild fowl. Are members are always willing to help new carvers get started.
Follow the website links to find information about our various activities, contact information, our membership form and a copy of our newsletter, News & Notes.
Green Mountain Wood Carvers
PO Box 1283
Stowe, Vermont 05672