Green Mountain Woodcarvers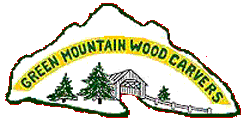 ---
---
In addition to the website and monthly newsletters, you can now find out more about the Club
by logging into Facebook and joining the Green Mountain Woodcarvers group.
---
Saturday October 13, 2018 CarveIn

and Annual Meeting

Birds of Vermont Museum

Huntington, Vermont


Our October CarveIn and 2018 Annual Meeting was again hosted this year by the Birds of Vermont Museum in Huntington, on a very nice late fall day. 14 members attended, carving on a variety of projects in the morning and then at noon President Matthew Strong passed out the Minutes of Last Year's Meeting and 2018 Financial Reports for members to look over while eating lunch. The Meeting was called to Order at 12:30. The Reports were accepted as presented, and Barb reported we had a small profit for the year, due in part by many of our members now receiving their newsletters via Email, saving us on postage and printing expenses. There was a discussion of our August Class and Annual Show, along with ideas for next year. All of the present Officers were re elected. Due to our profit this year, it was decided that we should use part of the profit for a donation to the Museum. The Meeting adjourned at 12:30.
Saturday November 3rd, 2018
GMWC President Matthew Strong's Studio
Stowe, Vermont
GMWC President Matt Strong has volunteered to host our November CarveIn at his Studio in Stowe, on the first Saturday in November. This is a good time to bring along all the Holiday carvings you are working on. We hope to have a few updates on possibilities for our August Class. As always, this is a good time to get to work on your Holiday Carvings.
Directions: From Stowe Village, turn onto the Mountain Rd VT Rte 108, Turn right on Weeks Hill Rd about .5 miles from the 100/108 Junction. Go up Weeks Hill Rd about 1.6 miles and just past Percy Rd, stay left and Matt's house is on the right, by the large wooden "Strong" sign.
December 2018 CarveIn
In the past, we have had very low attendance at the December Carve-In due to either unexpected snow, deer season and all the other things on our list do before the holiday season. As a result, we have again decided to not schedule a December Carve-In again this year. We'll hope to see you in January 2019 at Burr Morse's CarveIn at The Morse Farm Sugar Works in Montpelier.
---
The Green Mountain Wood Carvers was organized about 55 years ago by Collise Brown from Waterville Vermont to bring together people interested in the art of wood carving. At present, we have about 75 members from Vermont as well as other states across New England.
Members of the club meet the second Saturday of each month for a "Carve-In". The Carve-Ins' are held at members houses and shops across the state, and provide an opportunity for members to gather, work on a projects and share ideas. In addition to our monthly Carve-Ins, each August, the Club plans a week long series of events including a carving class, and our Annual August Show and Sale held in Waterbury Vermont.
You don't need to be an accomplished carver to join the GMWC, our members range from first time carvers to professional carvers. Members work in all aspects of wood carving including relief, chip, caricatures, birds and wild fowl. Are members are always willing to help new carvers get started.
Follow the website links to find information about our various activities, contact information, our membership form and a copy of our newsletter, News & Notes.
Green Mountain Wood Carvers
PO Box 1283
Stowe, Vermont 05672