Green Mountain Woodcarvers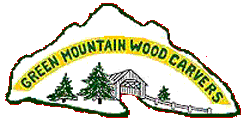 ---
---
In addition to the website and monthly newsletters, you can now find out more about the Club
by logging into Facebook and joining the Green Mountain Woodcarvers group.
---
September CarveIn Report

Host: Bob Lindemann

Moretown, VT


We schedule our September CarveIn to take place at the Shelburne Harvest Festival, but as with many events this summer, the Festival was cancelled due to COVID 19. This year, we instead choose to meet again at Bob Lindemann's house to make use of outdoor carving by the gazebo or front patio screen house. After a nice week of late summer weather, we awoke to temperatures in the high 30's , so the 8 carvers attending worked in the large garage where we could spread our chairs out until the fog burned off, and it warmed up a bit. Dave, although not being able to attend sent along some bunny cutouts, and Bob had some Shelburne cottonwood bark to work on as projects for the day. The table had hot coffee, the donuts and some of Roy's apple biscuits to hold us through the morning. The floor quickly was covered with chips, and Tundra the new Husky puppy lacking sticks to chew on found a new pastime. Lunch was again "BYO" and we welcomed our 9th carver, longtime member Bob Brightbill via phone as he is not able to attend out monthly CarveIns. After a nice time catching up with Bob via phone during lunch he asked that each of take one of the walnut blocks he provided home and see what we could carve. We had a short informal business meeting, Barb went over some financials and Bob L. had updated the Lending Library with the books recently donated to the Club by Richard Cassavoy's family. We went out to the shed to find a walnut block to work on, and then adjourned around 2:00, to a very nice sunny day with the temps having risen to almost 70.
---
September 10, 2020 CarveIn & Annual Meeting
Host: Birds of VT Museum
Location: Huntington, VT

The Annual Meeting of the Green Mountain Woodcarvers and our October CarveIn will be held on October 10th, 2020 hosted by the Birds of Vermont Museum in Huntington, Vermont. The CarveIn will begin at 10:00 and the Business Meeting will begin at 12:00 to hear the reports of the present Officers, elect Officers for next year and conduct any appropriate business. The Annual Meeting, is not just about electing Officers but, determining the direction of our Club, and planning for next year, with COVID impacting our usual Club activities.
This will be a very important meeting for as many of our members to attend as possible. We need your participation and ideas to help determine the future direction of our Club. One of the main topics of discussion of our Annual Show and Exhibit and ideas for next year's Class. We hope to see you at the CarveIn and Annual Meeting, it's a great place to spend a nice fall day. In keeping with the current guidelines, we will again me meeting in the outdoor "Treehouse", so in case of cooler weather remember to bring warm clothes, in addition to a chair and lunch, and of course your tools and a project to work on.


---
The Green Mountain Wood Carvers was organized about 60 years ago by Collise Brown from Waterville Vermont to bring together people interested in the art of wood carving. At present, we have about 75 members from Vermont as well as other states across New England.
Members of the club meet the second Saturday of each month for a "Carve-In". The Carve-Ins' are held at members houses and shops across the state, and provide an opportunity for members to gather, work on a projects and share ideas. In addition to our monthly Carve-Ins, each August, the Club plans a week long series of events including a carving class, and our Annual August Show and Sale held in Waterbury Vermont.
You don't need to be an accomplished carver to join the GMWC, our members range from first time carvers to professional carvers. Members work in all aspects of wood carving including relief, chip, caricatures, birds and wild fowl. Are members are always willing to help new carvers get started.
Follow the website links to find information about our various activities, contact information, our membership form and a copy of our newsletter, News & Notes.
Green Mountain Wood Carvers
PO Box 1283
Stowe, Vermont 05672